Making Fun and Useful Things From Recycled Materials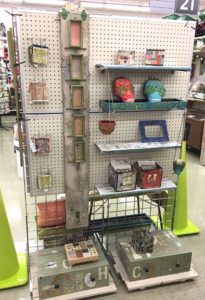 At right is a photo of my display at Schnarr's Hardware in Webster Groves, Missouri at 40 East Lockwood. You can view my work from October 6 – October 15 2017 as part of the Old Webster Fall Art Walk. Look for the lime green cones outside Schnarr's and other businesses in Old Webster to see where exhibits for the art walk are located.
One of my favorite things to do is to find interesting salvaged materials and apply my creativity to see what I can make out of them. Don't get me wrong, a trip to the craft store or hardware store is always a treat but sometimes all-new materials don't give me the same satisfaction that I get from bringing something old back to life. Some materials I use are hand-me-downs or old items of mine that are no longer useful. If I can't use a whole object that is being discarded I often scavenge parts from it. I've made myself some really nice things out of stuff that I picked up off of the curb on trash day. Garage sales and thrift stores sometimes yield fun supplies and I also like to look for interesting materials at non-profits that specialize in keeping things out of landfills such as Leftovers, Etc. and Perennial.
Do you want some ideas for repurposing materials? I've written tutorials about how I made many of the items in the show. For inspiration, check out some of my projects!

Antique Key Necklace
Recycled materials – skeleton key, upcycled chain, thrift store beads
Tutorial – Skeleton Key Necklace

Birding Journal
Recycled materials – matt board, scrap paper, found images
Tutorial – Handmade Birding Journal

Insulator Votive Candle Lantern
Recycled materials – Glass insulator
Tutorial – Make an Insulator Votive Candle Lantern

Button Bracelets
Recycled materials – buttons, trim, ribbon
Tutorial – Button Headband and Bracelet

Butterfly Feeder
Recycled materials – glass dish, metal rings
Tutorial – Upcycled Butterfly Feeder

Wood Garden Sign
Recycled materials – wood plank
Tutorial – Stencil a Wood Garden Sign

Mosaic Plant Stand
Recycled materials – wood, paper backing glass blobs, tiles
Tutorial – Build a Mosaic Plant Stand

Dia De Los Muertos Skull
Recycled materials – fabric, beaded trim, floral embellishments, chipboard
Tutorial – Dia De Los Muertos Skull
Upcycled Tea Box
Recycled materials – Wood tea box, found images
Tutorial – Vintage Look Box

Upcycled Metal Tin
Recycled materials – metal tin, found images, recycled ribbon
Tutorial – Upcycle a Metal Tin With Decoupage

Mini Album
Recycled Materials – scrap paper and cardstock
Tutorial – Make a Mini Album