Prairie Restoration at Litzinger Road Ecology Center
I'm a volunteer at the Litzinger Road Ecology Center in Ladue. Volunteers and on some occasions the public are invited to educational events on the premises. I recently attended a session for volunteers to learn about why the prairie sections at the center are periodically burned and an introduction about how to start a fire, control the fire, and perform the burn safely.
At the time of European settlement, about 1/3 of the state of Missouri was covered by tall grass prairie. Today 70,000 acres remain and only 22,000 acres are protected, making prairie one of the most endangered ecosystems. Fire is necessary to maintain prairie. Lightning and human intervention provided the fire in historic times and in the present day.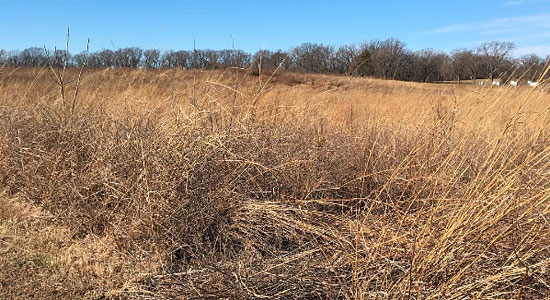 An example of a restored tall grass prairie at Fort Bellefontaine County Park
Here are some reasons why Native Americans in Missouri used fire:
Fire stimulates growth of raw shoots which attract game animals to eat them
Aid to visibility of enemies coming
Weapon against enemies
Herding game
Made travel easier
In the present day fire is used for managing remnants and for restoration. The prairie at LREC is not a remnant of prairie that was never plowed or otherwise destroyed, it is a restoration approximating to the best of our ability what used to be there. A real prairie takes thousands of years to form so a restored prairie is not exactly the same but a managed restoration can perform some of the functions of this type of ecosystem.
Purposes fire management at LREC:
Removal of non-native invasive plants and woody seedlings that are unwanted
Supports birds and other animals with food and habitat
Encourages forbs and grasses
Increases plant diversity
Protects against unplanned burns by removing excess fuel
Removes thatch and helps animals that can't make use of the thatched areas
I'm sure many readers remember the Yellowstone Fire of 1988. That is an example of a situation that was more serious than it might have been if the land had not been managed to suppress all fire and to let fuel build up for many decades. My first visit to Yellowstone was during the 1988 fire so I remember it well!
At LREC we only burn certain sections of the prairie at one time, so animals can escape and take shelter in the unburned portions. Also we want to leave some habitat for insects, reptiles and amphibians. We try to keep from cutting down or burning stems until spring because many insects overwinter in the stems and they need a chance to escape.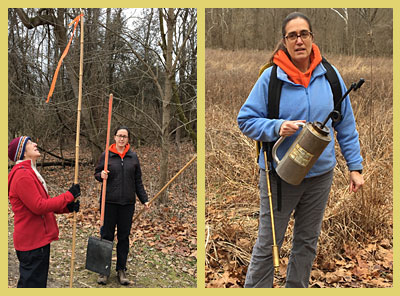 We were shown tools and techniques that are used to start and manage controlled prairie fires
This year we are going to attempt to burn the "Mulch Pile Woods". Woods are harder to burn because there is less fuel. The large piles of brush will be removed before the burn because too much fuel could set trees on fire and we only want to burn the undergrowth. Large logs and vines may also be removed before the burn. Some wood may be returned after the burn so it can continue to serve it's natural purpose in the forest.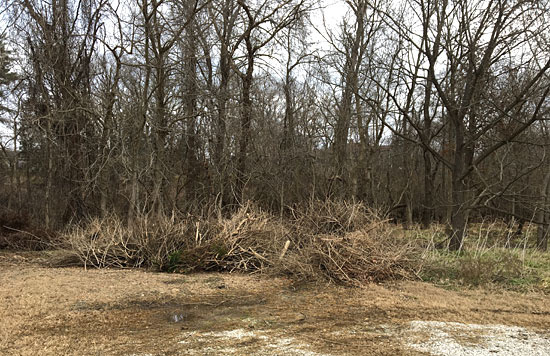 The brush in the foreground will be removed before the burn because that is too much fuel for the type of fire desired
Settled areas are difficult to burn in. Mowing can be used for management in areas where burning is not possible. Mowed grassy areas are used around the prairie patches as a firebreak.
LREC submits burn plans to the Ladue Fire Department and the St. Louis County Health Department to make sure air quality is good enough and that the Ladue Fire Department is available for backup. We have to let them know what sections we want to burn and what the reasons are for burning. Three prairie sections are on two-year rotations.
The best conditions for burning consist of low wind speeds, humidity levels of 20-50%, air temperature of 35-65 degrees F and good air quality. LREC obtains a permit for a range of dates so they can seize a favorable opportunity when it happens. Volunteers are given 24 hours notice. This year a permit was applied for between December and May. The Ladue Fire Department comes as a backup but so far they have not needed to do anything to help out. If the Fire Department is too busy to come that day the burn will have to be postponed until they are available.
Click this link to see photos and video of previous year's burns:
Many volunteers at LREC are eager to witness a burn or to participate in one because it's unusual and exciting. I don't know if I'll be available the day it happens this year, but if I participate I'll be sure to write about how it went.
If you would like to learn about fire safety or how to conduct a controlled burn on your own property, these resources from the Missouri Department of Conservation will help you get started:
Here are a couple of my other articles about activities at the Litzinger Road Ecology Center: