Skeleton Key Necklace
This necklace project is great for anyone who likes the vintage or upcycled look in jewelry.
Tools and materials
* indicates items that are available at Schnarr's
Skeleton key*
Vinegar* (optional)
Salt (optional)
Can of clear sealing spray* (could be acrylic or polyurethane)
Round nose pliers
Chain nose pliers (small long nose*, needle nose* or flat nose* pliers would also work)
Side cutters (When they're sold as jewelry tools, these are called side cutters but the diagonal cut pliers* found at Schnarr's are very similar. You can also buy long nose pliers that include a cutter. These aren't as good for close in cutting as the side or diagonal cut pliers, but for this project they will probably be adequate. If you only want to buy one tool for this project and don't care if your loops are perfectly round, you can get by with just the long nose pliers if they include a cutter. For perfectly round loops you will need round nose pliers in addition.)
Split ring pliers
An assortment of crystal, pearl and glass beads
Copper or gold colored seed beads
Headpins (6), eyepins (8), split rings (4) and large jump rings (4) in metal color or colors of your choice
1mm beading cord
Scissors*
Glue*
Crimping cord ends
Clasp
If you like, you can substitute metal craft chain* for the beading cord and then you would not need the cord ends.
Instructions
1. First select a skeleton key to be the focal point of your necklace. If you're lucky you might find an antique key that looks just right. Vintage metal parts are in such demand that craft retailers sell a variety of replicas. You can also buy a brand new skeleton key from Schnarr's. Decide if you want to simulate an antique patina. To artificially age your key soak it in a cup or so of vinegar with a teaspoon of salt added overnight. Let dry and rinse well with water. Let key dry thoroughly and spray with a clear coating.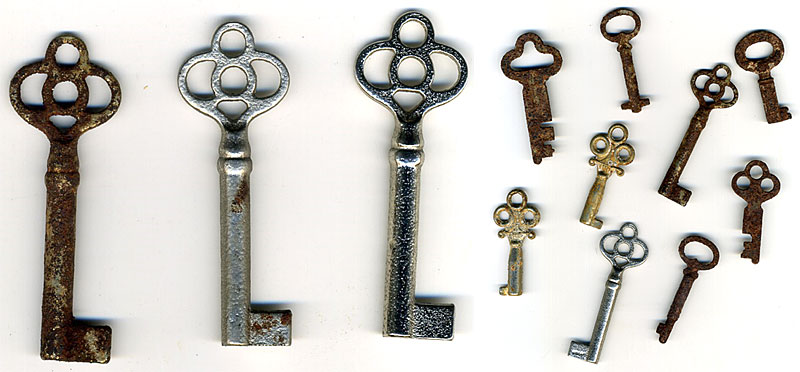 2. Put your key down on your work surface and select small beads that complement your key. Arrange beads around it to see if you like how they look and how you would like them to hang. You can also add charms if you have any.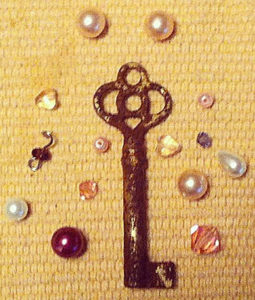 3. Make dangles for each side of the key by stringing beads onto eyepins and headpins. Make some of your dangles longer by connecting headpin sections to eyepin sections. Use gold or copper colored seed beads as accents and spacers for the pearl, crystal and glass beads.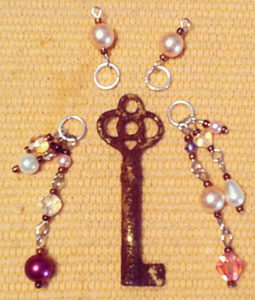 4. Attach dangles to the lower openings of the key on either side.
5. Select a large jump ring and attach it to the top loop of your key. Run a piece of chain through the jump ring to suspend the key as a pendant on the chain. Variation: if using beading cord, thread two additional pearl beads onto eyepins and use them as a transition from the jump rings at the top of the key to the beading cord.
6. Attach clasp to the chain ends with jump rings. If using beading cord, attach split rings to the pearl segments and attach a doubled piece of 1 mm cord to the split ring with a lark's head knot.
7. If using beading cord, attach the clasp by crimping the cord ends with cord end findings, using a dot of glue to help hold them in place. Attach a split ring to each end then a clasp to one end. You're done!
If you need a source for the jewelry supplies, try my online store or a local craft supply retailer.
See my Pinterest site and past lesson plans for more jewelry design ideas and other craft projects.
www.pinterest.com/chasenfratz/
www.limegreennews.com/lessons.html
We also have a lot of great projects on the Schnarr's Pinterest site!