How Much is a Tree Worth?
On a hot afternoon at our Ladue store a couple of weeks ago, we had a power outage that affected our store and a lot of the surrounding neighborhoods. The next afternoon at my condo my neighborhood had the first power outage I've experienced in my 14 years living there. According to updates from an Alderman in my city who was in contact with Ameren Missouri, there was extra load on some stations due to storm damage from a couple of days earlier. The combination of the extra demand with the heat was too much for some of the stations to handle. Someone more technical than me can probably explain it better or understand it better, but what I get from this is that hot temperatures can stress an already stressed system to the point of failure. This is a good time to reflect on a group of living things that often seem so permanent and indestructible that we sometimes don't give them the respect and care that they deserve – trees!
When we are managing our landscapes or contracting for services, we have to make decisions about how much money to invest in trees. How much do we want to spend to buy the specimens? How much effort do we want to put in selecting, planting, establishing and maintaining the tree? Should we spend the money to get it pruned correctly by an expert or to treat a disease or pest? If we decide we don't want it, how much will it cost to remove?
Those decisions will become easier to make if you know the actual economic benefit of your tree. According the Treekeepers Comprehensive Introductory Course handbook, "planted in the proper location, trees can reduce energy demand by as much as 50%". The recent power outages I experienced occurred at approximately 3:15 pm and 5:30 pm respectively. Those are often very hot times of the day so it seems likely that air conditioning was one of the factors contributing to the high demand. You will notice that the air is noticeably cooler in the vicinity of trees – that is because water evaporates from the leaves of trees and the change from water to water vapor uses up heat energy from the air.
Just for fun, I ran a test on an oak tree that is at the corner of my condo to see what the value of it is in hard cash terms. I used a really useful tool called i-Tree Design. Here is a screenshot showing some of the benefits of this tree over a 10 year period.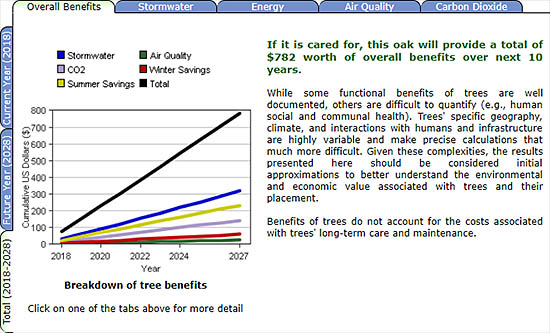 You can run tests using your own property as an example with different sizes and species of trees. The tool will even show you spots on your property where trees will have the most and least benefit. It's lots of fun and very enlightening!
Out of curiosity I ran a calculation on the Rose of Sharon tree I planted near my deck. According to the i-Tree Design tool, the economic value of that tree is $174 over 10 years. Maybe that doesn't sound impressive at first, but consider that the tree itself was free – it came from a seedling that I transplanted from my parents' yard. I spent about five minutes planting it and when it was tiny I probably watered it a few extra times during the first couple of weeks. It has required little care since then – the only thing I remember doing with it is mulching it and weeding out it's extra seedlings that I didn't want. The tree is small enough that I could remove it myself for no cost if it came to that. Economic benefits are not even the reason I planted the tree in the first place – I wanted to look at the beautiful flowers and enjoy watching the wildlife that I knew would come to feed on the flowers and seeds. It attracts a steady parade of butterflies, hummingbirds, finches, other birds and various bee species for months on end. If I had PAID $174 for the tree I probably would consider it money well spent.
If you plant the right tree in the right place and care for it correctly, you will cut down your energy usage. You also may help reduce the demand on electrical equipment in your neighborhood and prevent power outages. A power outage is often just a minor inconvenience, but under certain circumstances and to vulnerable people an outage can be costly and dangerous. If you plant trees and invest in their establishment and care, it is possible for your tree investment to pay for itself and make life better for your community at the same time. All you need is the right information – I hope the resources I'm sharing will help you to get it.
iTree Design Application
http://design.itreetools.org/
Forest ReLeaf of Missouri
http://moreleaf.org/
Missouri Community Forestry Council Tree Care Blog
http://www.mocommunitytrees.org/blog1/
Missouri Department of Conservation Tree Care Videos and Documents
https://mdc.mo.gov/trees-plants/tree-care