How I Use My Garden for Self Care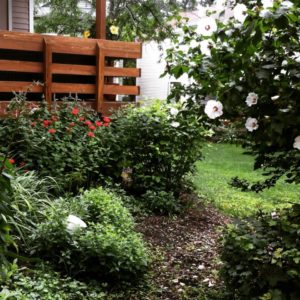 Life can be stressful at times. If we don't take time for self care our health can suffer. I recently saw an advertisement for a workshop about gardening and holistic self care. I was not able to attend and learn some new things, but I can think of a lot of ways in which my garden already helps me with my own self care.
Exercise – That's good for physical and mental health.
Time outdoors – Health benefits accrue from contact with nature and sunlight.
Hobby activity and learning – Observing what is going on in my garden and finding out the reasons why is great excercise for the brain. Studying for my Master Gardener tests earlier this year gave my memorization skills a big boost. If photography, sketching, painting or other visual arts are hobbies for you the garden can provide a lot of interesting subjects.
Mindfulness – I'm learning more about Mindfulness and how to practice it. The pleasant sensory experiences in a garden (taste, sight, smell, sound, touch) are a great incentive for Mindfulness exercises.
A sense of purpose – When I work on my garden, I have the satisfaction of knowing that I am learning things that I can teach to others. I'm making the vicinity healthier and more pleasant for my human neighbors. Because of the way I manage my garden I'm helping address environmental problems that affect all of us – soil erosion, soil health, flooding, overuse of pesticides, scarcity of pollinators for crops, air quality and water quality. The impact of my garden may be small but it's more satisfying to do something than nothing. The number of beneficial non-human species that use my garden lets me know that I'm providing healthy habitat for them. I also donate some of the extra seeds I raise to non-profits.
Indoor environment improved – My gardens surround all three exterior walls of my condo so when I open the windows delicious fragrances waft in. I set vases of cut flowers and herbs around to freshen and beautify the interior. If you believe in aromatherapy, you can breathe in some herbal essential oils right from the plant! I also make potpourri from the dried herbs.
Nutrition – I harvest edible leaves and make tasty beverages from herbs in my garden. The freshness enhances both taste and nutritional value.
Personal care products – I use herbs from the garden dried or fresh in a number of personal care products such as facial masks, bath tea, soaps, face lotion, skin balm and more (some of my recipes are here). Luxury bath products do make you feel cared for and when you make your own they're even more luxurious because they're made to your specifications.
Spritual benefits – Many faith traditions can incorporate gardening and plants – for example mazes, grottoes, shrines, incense and more. Many people find that working in concert with nature makes them feel closer to the Creator they believe in.
According to a book I'm reading now, "The Expressive Arts Activity Book" by Suzanne Darley and Wende Heath, the arts are inherently therapeutic. Gardening is an art and many products of the garden can be used in art forms such as cooking and flower arranging. Although I don't know much about it yet, there is a professional field called Horticultural Therapy. If you already have a garden, I encourage you to take time to enjoy it's benefits. If you are thinking of starting one the fall is an excellent time – waiting until spring to start a garden from scratch can be a challenge!