Exploring Where Art and Science Meet at the Donald Danforth Plant Science Center
The Arts and the Sciences were more closely interconnected with each other at earlier times in human history than they are now. Although I'm a trained artist, not a trained scientist, I have had a layperson's interest in science since  before I even started first grade. I enjoy microscopic and close-up images of things like cells, rock crystal structures, lichens, moss, mold and more. In earth science classes, I was inspired by dendritic patterns, astronomy subjects and maps. Imagery influenced by those things has come up in my artwork from time to time for many years. Venture Cafe Night: 39N recently hosted an event at the Donald Danforth Plant Science Center with the theme Science of Creativity – I had to check that out. I also submitted some of my science-inspired art journal pages for a slide show. Venture Café St. Louis is a nonprofit organization dedicated to "connecting innovators to make things happen" by sponsoring events and 39 North is a district promoting "academic and corporate AgTech research and innovation". Venture Cafe events are kind of like a mini-convention and happy hour where you can attend activities and presentations while mingling with interesting people.
In the cafe guests were given coloring pages and blank mini canvases to color and draw science imagery. A slide show of beautiful close-ups of structures from plants and animals was there to view for inspiration.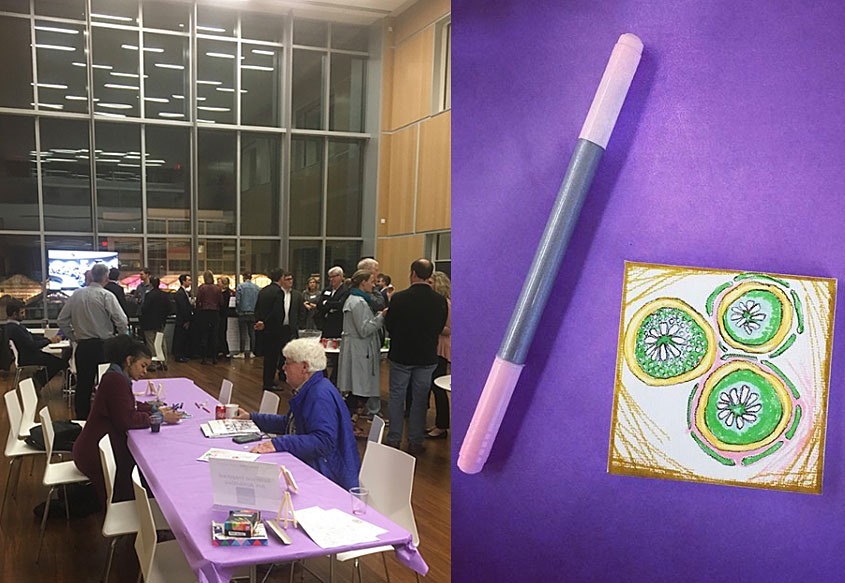 In the theater after presentations about microscopic art and business funding, there was another slide show on view with artwork that different artists and scientists had submitted ahead of time. Organizers had prepared two slides with three of my art journal pages on each. They did a great job selecting pages that looked good together. It was pretty cool to see my images projected at such a large size!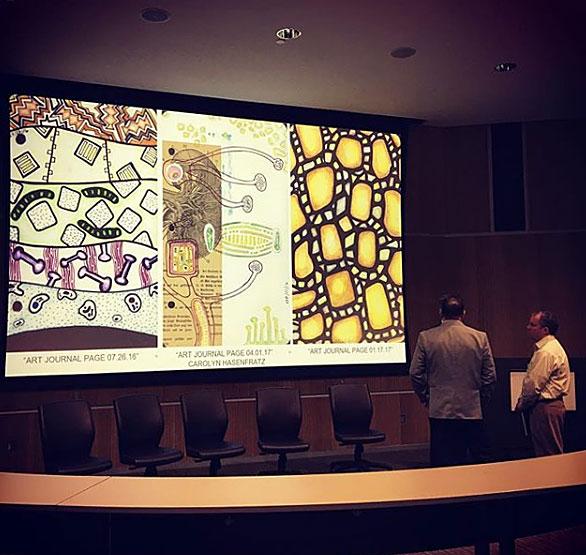 My art journal pages were made with pencils, markers, pens and collage work. What do they mean? I like to work in my art journal as a stress-relief activity so when making some of these pages I was thinking about the effects of stress on the human body and mind. Sometimes I don't have to think at all, just play with the colors and shapes – that is a very relaxing and restorative activity that I enjoy very much.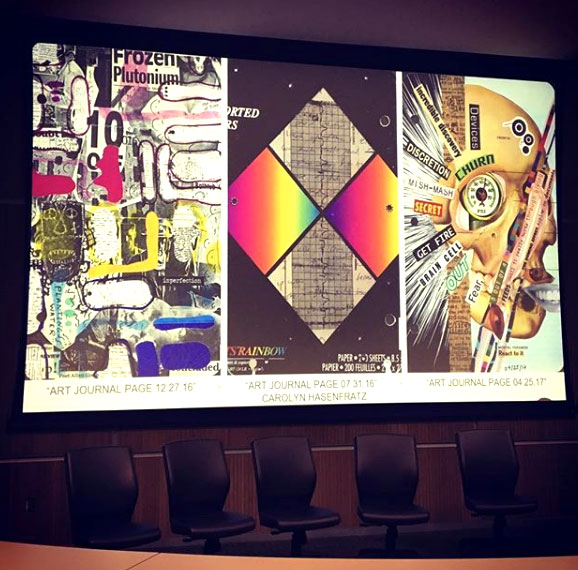 Here is a link to the complete slide show so you can see the other artists' work:
Art X Science
More photos of the event are in a Venture Cafe Facebook album:
Venture Cafe Night: 39N – February 20, 2018
In 2017 I went on a tour of the Donald Danforth Plant Science Center with other volunteers from the Litzinger Road Ecology Center. We toured greenhouses and areas where experiments are conducted and stored.
Of special interest to me being so into the visuals of science was a look into the microscopy lab and a gallery of  images that were probably made for science reasons but double as stunning and amazing visual art.