Luminous Decor with Flameless Candles: Idea #3
What you'll need:
Candle lantern*
Glass container
*Water Lights – special submersible flameless candles
Acrylic or glass gems, *clear or colored
*Available at Schnarr's.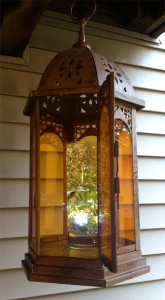 Do you have a hanging candle lantern? I have one on my deck but I'm not allowed to burn real candles in it for safety reasons. Flameless submersible Water Lights powered by batteries are the answer! Try filling a drinking glass with a clear submersible Water Light, some colored glass or plasic gems mixed with the clear plastic and add water.
What kinds of color effects can you get if you mix colored glass, plastic gems and a color-changing Water Light? Try it and see! Try different combinations for your holiday parties!