Luminous Decor with Flameless Candles: Idea #1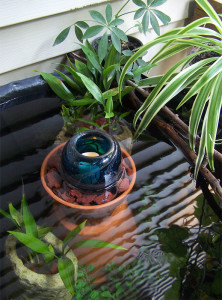 Do you want to create a festive atmosphere for party guests, or just enjoy your own home or yard more? In this series I'll share some easy and safe ways to add luminosity and beauty to almost any size water feature – pond, fountain, water garden, punch bowl or whatever water container you have!
What you'll need for Idea #1:
*Terra cotta plant pots
*Flameless candles
Sturdy glass container
*Sand, gravel or lava rock
Optional – Water plants, real or artificial
*Available at Schnarr's.
Idea #1:
Some types of flameless candles, such as the ones pictured below, are not meant to be submerged. Here is a way to display this type of candle in water. Simply create a stack of terra cotta plant pots in your water feature that is nearly to the water's surface, but not quite. Top off the stack with a partially submerged glass container, and place a battery-powered flameless candle inside. The size and number of pots you use will depend on how deep your water feature is. Fill the top pot with gravel if necessary to hold the candle holder at the right level – lava rock is a good choice because it helps to filter the water. A sturdy, thick-walled container works best for the candle holder – it should be heavy enough not to float. I chose to use a glass vase that I made in college – here is an instance where my tendency to blow really thick-walled vessels turned out to be a good thing! Avoid using very valuable vessels in case your tower of pots gets knocked over by accident (such as by animals hunting for your pond fish!).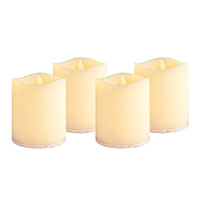 Such an installation can be temporary or permanent. I recommend bringing the flameless candles inside when not in use so they don't get damaged if the candle holders collect rainwater.
In my example shown in the photo, I've added some aquatic plants and placed potted plants around the edge to make it prettier and more inviting to human viewers and to make it a better habitat for the fish and for the birds who love to drink and bathe there. I also placed several sticks near the edge for birds to use as perches and to help them climb out should they happen to fall in.
A water feature of any size is a great addition to your outdoor living space. Just the sight or sound of water can help you feel cooler on a hot day and is mentally soothing as well. Water features can be enjoyed all year round. If your outdoor water feature is in view of a window, lighting it up will make your indoor holiday parties more festive. At Schnarr's we carry pumps, heaters, mosquito dunks and other items to help keep your water feature healthy and enjoyable in any season. Water gardens are not restricted to your outdoor space – you might also enjoy my article "Create an Indoor Water Garden".