Lasagna Gardening
What is Lasagna gardening? No, it's not growing delicious tomatoes and herbs that you can put in your lasagna, though you may eventually be able to do just that depending on your conditions. Lasagna gardening, also known as sheet composting, is an organic gardening method that entails covering the ground with layers of materials of organic origin and allowing them to naturally break down over time. The benefits of this method are less time and labor spent weeding and tilling, creating healthy soil for healthier plants, and reaping the many benefits of compostable materials instead of wasting them.
If you are thinking of starting a new garden bed next spring, fall is a good time to begin it and lasagna gardening is a good method to use if your chosen ground is covered with vegetation that you want to kill off. I'm demonstrating with a section of a shade garden that is covered with liriope. I like it but I have too much of it so I want to get a section ready to put in something new later. If you've ever tried to dig up lirope you can imagine how much time I will save by just smothering it! This method works for grassy areas also or any piece of ground covered with unwanted vegetation. Here is what my section of garden looked like before I started.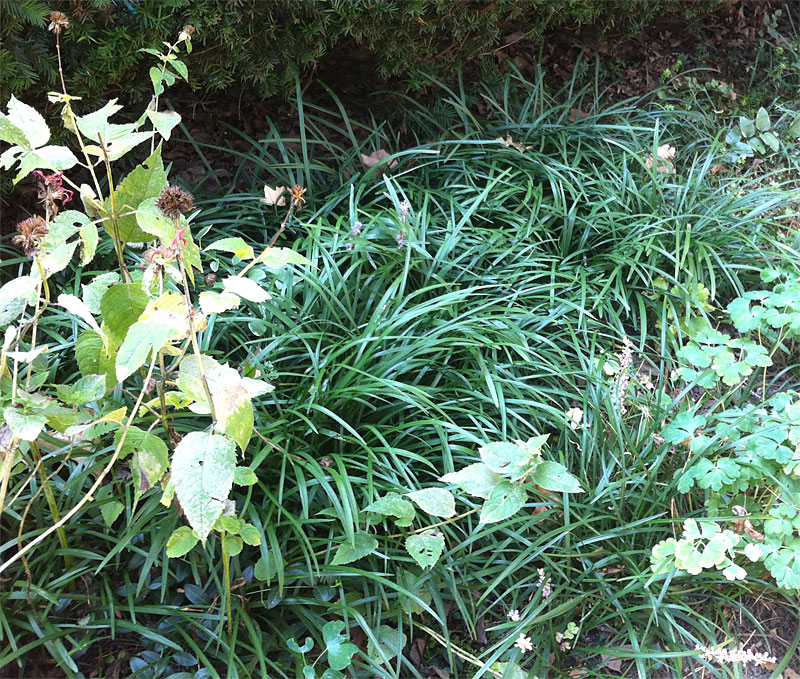 First gather up all the compostable materials that you can. The first layer consists of cardboard, paper, newspapers and other recyclable paper based products. I have been saving for a couple of months so there is more than enough for this section.
Mark off the space that will become your garden. You can transplant the vegetation already on the spot if you need it elsewhere. If it's ok to kill it, just cover the area with several layers of cardboard and paper without leaving gaps in between. If it's windy, wet the paper as you go – I dunked mine in a bin of water before applying. The paper will block the light and kill the vegetation underneath which will decompose and eventually become plant food.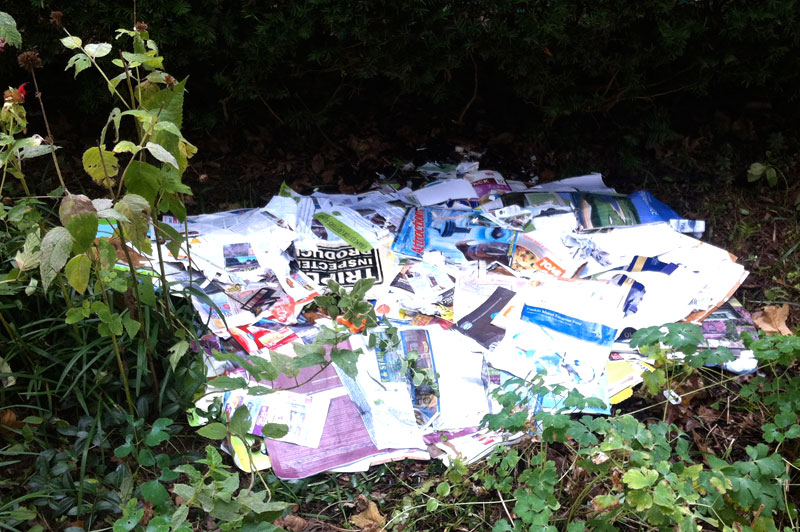 Wet the layer after you're done applying it if it's not already wet. This helps jump start the decomposition process.
Build subsequent layers by alternating green and brown compostable materials. Examples of brown materials are dried leaves, shredded paper, and dried dead plant materials. Green materials are grass clippings and fruit and vegetable scraps from your kitchen. Layering the green in between the brown helps to break the pile down faster, but it will eventually break down even if you have a small amount of green materials in comparison to brown. Add in whatever else you would normally put in the compost – eggshells, coffee grounds, and the like. In my case since I live in a condo community where people walk their dogs nearby, I didn't want interesting odors to attract them to my garden so I left out the kitchen scraps and used only paper and cardboard.
If you want to do some fall planting, you can put soil and fertilizer on top of your compostables and plant now. If you are planting on top of tree roots, don't make your layer more than 8 inches thick as anything deeper may kill tree roots, according to the book "Making the Most of Shade" by Larry Hodgson. If there are no tree roots to damage, you can make the lasagna 12 inches thick. I don't know what I'm going to plant yet or whether I'm going to plant in spring or fall, so I topped off mine with wood chip mulch.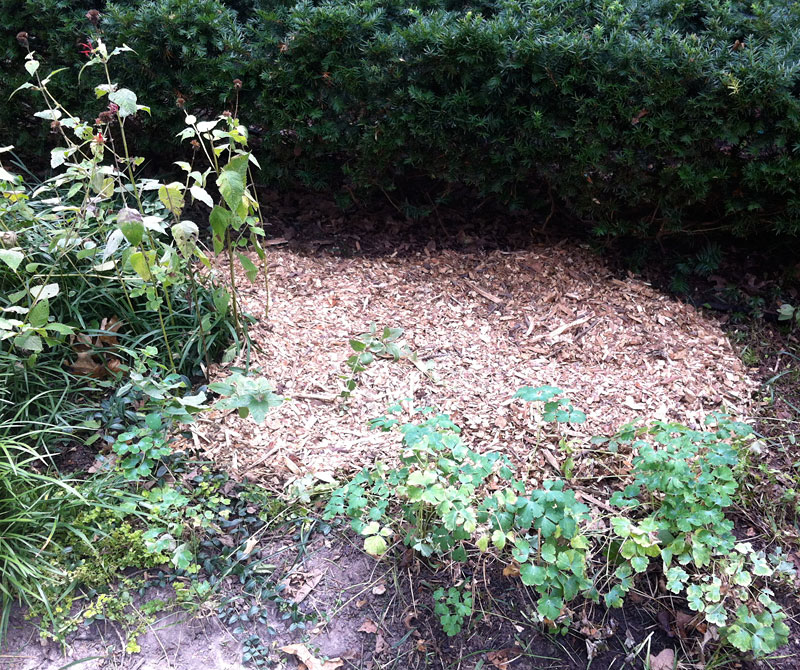 When I'm ready to plant I plan to just add soil on top of the mulch, because my lasagna is nowhere near 8 inches thick yet and it won't hurt to make the new bed deeper. I'll add nitrogen-rich organic fertilizer at the time to accelerate the breakdown of the wood chips.