Impatient for home-grown greens? Try some sprouts!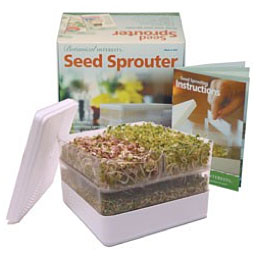 There are a lot of health claims associated with eating sprouts. I know for sure that they taste great and can be ready to eat just a few days after starting so if you're ready for something green and yummy to eat you won't have long to wait. I purchased a Seed Sprouter from Schnarr's and I'll be giving it a try shortly. Schnarr's carries some seeds from Botanical Interests that can be used for sprouting. We might not have everything listed on the Botanical Interests web site but we have some of them. You can also get seeds for sprouting from the Whole Foods bulk section.
Did you know you can let some of your seeds grow two or three weeks past the sprout stage and cut the tops off to use them in juices or smoothies? Wheat Grass and Oat Grass work well for this because they are easy to grow indoors and they germinate pretty quickly. When they are long enough you can use them in your favorite recipe. I sowed my seeds in seed starting potting mix, harvested a first cutting and got a second smaller cutting off of them later before turning them over to my pet birds. Apparently European Starlings don't need to be told that sprouts are good for you! They rapidly ate the stems, leaves, roots, and still-attached seeds with gusto! I think I remember reading somewhere that if you observe birds pulling up young seedlings in your garden, they are not just engaging in wanton vandalism, they want the extra nutrition from the sprouts. My own birds' instinctive behavior around sprouts would seem to reinforce that idea.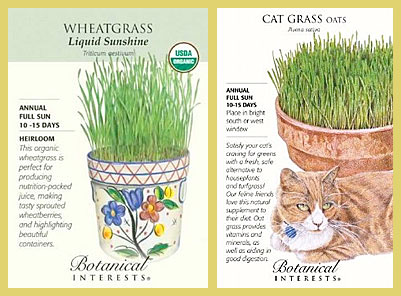 The Oat Grass is mainly marketed for cats while the Wheat Grass is marketed for human consumption. Both are nutritious for humans but the fibers are not digestible for us. You can get some of the nutrients from wheat and oat grass in a smoothie by thoroughly chopping the grass in a blender with the liquid that is going to go into your smoothie. Then strain the grass pieces out of the liquid and discard the fibrous parts. (I left some pieces in one of my smoothies as a test and I did not notice any digestive upsets but some people might not react well to the fibers). I don't have a juicer and I'm not familiar with how they work but Wheat Grass is more commonly known for use with juicers.
According to the website WebMD, Wheat Grass contains vitamins A, C and E, iron, calcium, magnesium and amino acids. WebMD states that there is not enough evidence to support most health effects other than nutrition although people do attempt to treat some health conditions with it and rates it LIKELY SAFE consumed in food amounts. WebMD has no listing for Oat Grass but other web sites I looked at state that it is also nutritious for people though perhaps not as much as Wheat Grass.
Here is a delicious smoothie recipe to try.
1/2 cup milk (any kind)
Handful of cut wheat and/or oat grass
1 frozen banana
1 cup frozen cucumber pieces
1 scoop Vanilla Flavored Whey Protein powder*
1 heaping TBSP Matcha Green Tea Latte powder*
*available at Trader Joe's
Directions:
Blend milk and grass pieces together in blender until well chopped. Strain grass pieces out of milk with a fine strainer. Return milk (now with a green tint) to blender and add all other ingredients. Mix well until smooth. Enjoy!