How to Raise Mealworms For Your Backyard Birds
Late winter and early spring are good seasons to attract desirable bird species to your yard. Birds are not brooding eggs yet because they need to wait until later in spring when there is enough insect food to feed their young. However, they are now engaged in, well, getting engaged! In other words many birds are scouting out nest sites and selecting mates if they haven't done that already.
You can entice birds to think your property is a good place to raise families by managing it with good bird habitat in mind – some ideas are in my previous article "Gardening for the Birds". Some of the most sought-after backyard bird species are heavy insect eaters. Many dried and live mealworms are purchased to attract Eastern Bluebirds. Although they tend to be rare in urban and suburban areas, I saw one at the Litzinger Road Ecology Center a couple of weeks ago, so I know they are present in Ladue in places where the habitat is suitable.
Dried mealworms, which can be purchased at Schnarr's, are more convenient than live mealworms and possibly more acceptable to those who are squeamish. If you would like to try raising your own however, I'll tell you how. It's so easy, I started raising mealworms by accident! For years I've raised plenty for my pet birds, newt and fish and there are enough left over to share with the outdoor birds also.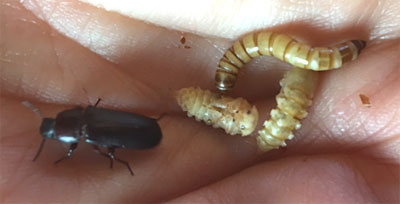 Life stages of the mealworm beetle in my hand – one larva, two pupae and one adult
Mealworms are not actually worms. They are larvae of a species of beetle, usually Tenebrio molitor L. My indoor and outdoor birds will happily consume all three forms of the beetle – adult, pupae, and larvae. When you purchase live mealworms in a store, they are usually larvae only and they are refrigerated to slow down their development into pupae and adults. To get adults who will lay eggs and make more mealworms, you need only to store the larvae at room temperature and give them food and a little moisture!
To begin, acquire a container that is steep sided so the adult beetles can't escape. An unused 10-gallon aquarium is ideal. Place an inch or so of some kind of "meal" product on the floor of the aquarium. I use a combination of oatmeal, chicken food, and flaxseed meal. These creatures are not that picky so you can use what is cheap and available – I've seen an exhibit at the zoo of mealworm beetles consuming styrofoam!
Place a couple of pieces of bark or wood on top of the meal for hiding places. You don't need a light, they don't like it. I only use a light to see when it's time to harvest some larvae. Nor do you need a lid because the adult beetles don't fly. Buy a container of live mealworms and dump the contents into your mealworm container. Every couple of days, add a little more food and something with moisture that the larvae can "drink" from. Good choices are a piece of carrot or potato, or leftover pieces and rinds from fruits and vegetables that aren't too odoriferous. You can also buy a special gelatin-like product that is designed for "watering" crickets. Avoid a dish of water because the insects might fall in and drown. If the substrate gets wet and moldy, replace with dry substrate.
When nutritious foods are fed to a prey animal like mealworms and crickets, that is called "gut loading". In theory, the better you feed your mealworms the more nutrition you'll be passing along to the eventual bird consumers. Cat food contains protein and amino acids that are very good for insectivorous and omnivorous birds. My two pet European Starlings' staple food is made from 1/3 chicken food and 2/3 cat food. They are picky about what size food particles they will eat so there are always lots of leftovers that are given to my mealworms and quickly devoured.
Eventually the larvae will develop into adult beetles that will lay eggs. Lift up the wood pieces periodically to see how many insects are hiding under there. When you think you have a high enough population to start harvesting, go ahead and take some. You will get a feel for how many you can take and how often over time.
If you get a fruit fly infestation, try moving the mealworm container to place where a few tiny flies are not that bothersome, like a garage. You can also set up a fruit fly trap (available at Schnarr's) near the mealworms to catch the flies.
Raising mealworms may seem "gross" at first but it's a great way to see and teach the life cycle of insects. If you have young family members they might be intrigued by this activity and develop an interest in animals and science. I started aquarium keeping when I was eight years old and I already liked bugs at that age. Besides fish I loved to keep lizards, toads and praying mantises. Seeing the mealworms I bought for my pets turn into pupae was really interesting! If you give a little squeeze to a pupa that is alive it will wiggle, which is an amazing thing for a kid to see!