Making Holiday Centerpieces From Natural Materials
I enjoy walking around outside at any time of year. It takes more motivation to go outdoors in cold weather but I'm always glad at such times that I made the effort. A landscape that is mostly dry and brown may seem unappealing at first, but if you look closely at plants and their remains in winter you will see more textures, shapes and colors than you may have thought possible.
One way to enrich the way you see the winter landscape is to collect natural materials and use them to make centerpieces for your Holiday celebrations, or any occasion. I had the opportunity recently to join other volunteers at the Litzinger Road Ecology Center in making centerpieces for the annual Holiday party. We were provided with a variety of recycled and donated containers along with embellishments such as ribbon and floral accents. Our goal was to create arrangements of mostly natural materials from the prairie at Litzinger Road Ecology Center to make attractive centerpieces.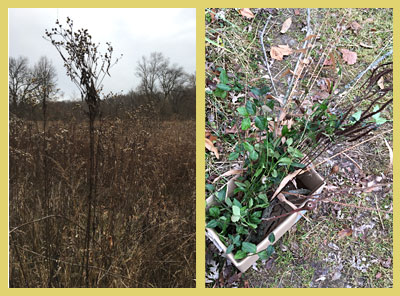 After taking a quick look at the available floral supplies, we spread out around the property to look for plant materials that we wanted to use. We collected reeds, grasses, seed heads, dried flowers, branches, feathers, vines, berries, pods, snake-skin, pine cones, nuts, bark, evergreen branches and more. A few plants were still green. Others provided many variations on dried plant colors – red-brown, silvery grey, dark brown, straw yellow hues and more. Often when we are working in the field we are mindful of the identification of plants. This time we were free to concentrate mainly on what the plant materials look like and what would make attractive combinations. Tall or short, delicate or bold, feathery or solid, rough or smooth – how can one enhance the other?
It's enjoyable to go into a craft store and buy materials that fit a preconceived idea of what you want to make – it's also a fun creative challenge to see what you can make out of the limited materials on hand with little to no pre-planning. I decided to be a little irreverent with my arrangement and use some green invasive creeping euonymus (Euonymus fortunei) which is a plant that may not quite be as hated as invasive honeysuckle here at LREC but could be a close second! To keep the vine green until the time of the party, I placed the cut ends of the vines into small bottles of water in the bottom of the glass container I was using. This also helped provide structural support since we did not have any florist foam in our supply stash to help hold tall stems erect.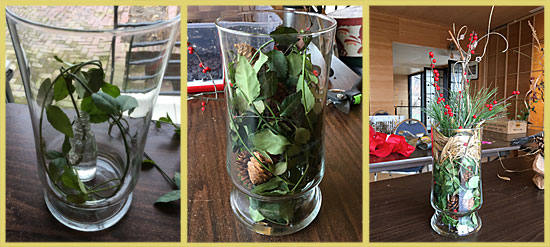 I added a few small pine cones among the green to break up the color a little bit, then I made a small donut shape of grasses and placed it in the vase on its side to provide extra structural support at the top. Then I added some branches with red berries, a few pine needles and some tall thin strips of wood with plastic crystals on them. A few red berries fell into the vase and down into the greenery so I added a few more here and there to make it look like I put them there on purpose.
Is there anything in your backyard that would look good in a Holiday arrangement? Explore with fresh eyes and you might find a new way to appreciate your garden in what we normally think of as the off-season. I recommend you take care to identify your finds if you have children or pets in the house who might eat things that they shouldn't. Some common garden plants (and houseplants) are toxic. Have fun and see where your creativity takes you!