Recipe: Kombucha Cocktail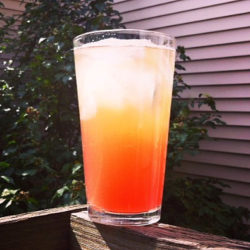 Kombucha is a fermented tea drink that contains a lot of probiotics. I attended a lecture on fermented foods recently and decided it sounded interesting. The lecturers recommended trying small amounts of Kombucha at first until your digestive system gets used to it. Here is a really refreshing drink to try.
Pour in layers into a glass filled with ice:
1/3 Kombucha
1/3 Sparkling Cucumber flavored water
1/3 Chilled herbal tea
Optional: garnish with fresh herbs or edible flowers from the garden.
Are you interested in brewing your own Kombucha? What interesting flavors could you make from your tea herb harvest? Here are a couple of articles to help you get started.