You'd Be Happy Too If You Could Eat What Bugs You!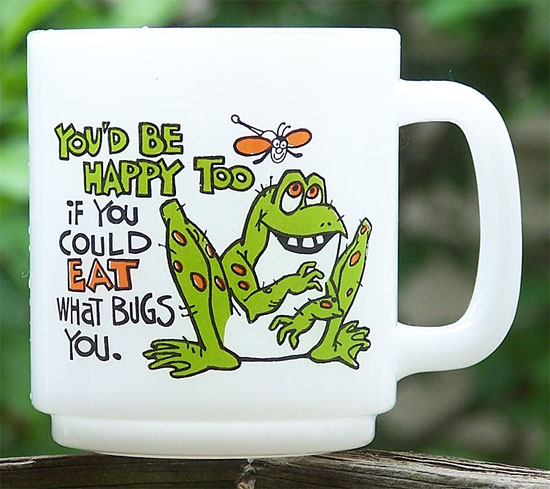 "You'd be happy too if you could eat what bugs you!" That's what it says on a coffee cup that I bought for my Dad when I was a little kid. I chose the cup for Dad because the design was in his favorite colors, green and orange. I have to admit I liked that
it had a frog and a bug on it, two of my favorite things then and now!
I'm not yet at the point where I'm willing to experiment with eating bugs, but I'm intrigued by garden weeds that are edible. There is no doubt that gardeners are "bugged" by weeds but your attitude toward some of them might improve if you can harvest and eat them.
For example Dandelions, Wild Violets and Asiatic Dayflowers are common weeds in my garden and also delicious in a salad when young and tender. When I regularly pull the baby leaves, rinse and eat them I'm harvesting and enjoying a fresh and nutritious crop rather than dealing with something annoying. You should be very careful when foraging to make sure you've researched the wild plant you want to eat to make sure you have identified it correctly, are not confusing it with a poisonous look-alike and are picking it from an area that is free of toxins such as pesticides, herbicides or auto exhaust.
Unless you are extremely confident in your identification skills, my recommendation is to get some foraging instruction from an expert in person so you can actually see and taste the plants as you learn about them. To improve my skills in identifying edible wild plants, I attended a recent workshop at Litzinger Road Ecology Center given by Jan Phillips, author of Wild Edibles of Missouri. There must be a lot of interest in this topic because there were about 40 people there.
First we watched a slide presentation where we learned about some of the wild edibles available in Missouri. Did you know that you can eat Daylily buds, Plantain, Redbud flowers and Henbit? We learned about these and many more. When I was a kid my neighborhood friends and I used to eat the seed pods of the weed Yellow Wood Sorrel – we called them "pickles" because they have a tart taste. I thought we were just lucky not to be poisoned while experimenting, but it turns out that's a well-known edible weed though some people can't eat it because they are allergic to the oxalic acid it contains.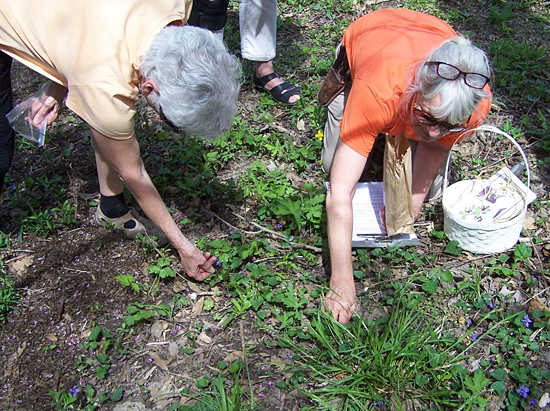 After the slide show we split into groups and foraged over different areas of the property. My group picked a lot of Redbud flowers, Violets, Dandelions, Spring Beauty, Henbit and Plantain.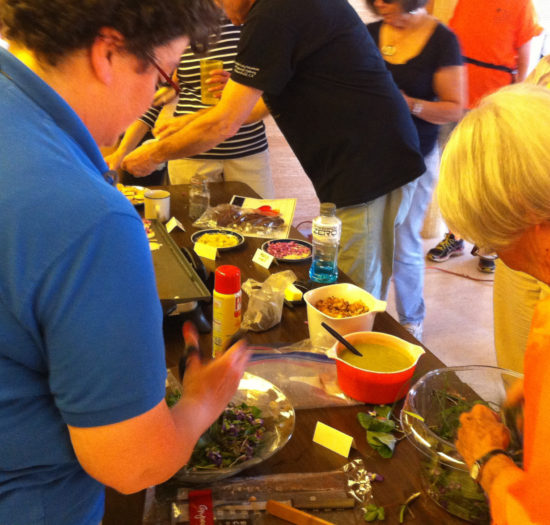 After foraging we brought our produce to the kitchen to wash and spin it. We then enjoyed some of it in salad. Chef Ryan Maher provided us with some delicious mushroom dressing to accompany the greens and flowers. Redbud and Dandelion flowers were cooked into pancakes for us to try. We enjoyed an array of other unusual treats that had been prepared ahead of time – teas brewed from things like Spicebush (that was my favorite), candied Peppermint leaves, Reindeer Lichen biscuits with Gooseberry jelly, wild nuts and more. Wild foraging is definitely a way to introduce some interesting new ingredients into your cooking!
Here is a salad recipe of mine that I like to mix with my "weed" greens.
Your favorite fresh greens from the garden
1 bulb fennel
1 cup mung bean sprouts
1 cup chopped kale (optional, if you need to boost the amount of greens)
1 cup broccoli slaw
Your favorite dressing (I mainly use vinegar and oil with a sprinkle of salt – edible weeds can be used to make flavored vinegars and tasty dressings also!)
Sprinkle dried cranberries and roasted pumpkin seeds on top
What chore sounds like more fun? Weeding, or picking some interesting food? Depending on what is growing in your garden, which task is awaiting might just depend on how you look at it!
Resources for more information on edible weeds and wild plants:
Link: Common Edible Weed Plants
Book: "Peterson Field Guide to Edible Wild Plants" by Lee Allen Peterson
Book: "Stalking the Wild Asparagus" by Euell Gibbons